Searching for Sarah
(
The Sarah Series
#1)
Julieann Dove
Adult Contemporary Romance
Paperback & ebook, 333 pages
April 27th 2017
The first in a three book series called Searching for Sarah. Come meet Sarah and begin her journey....
Sarah Keller is convinced that her Mr. Right is stuck in traffic…in another country…on another planet. 'Thirty-one and still single' isn't how she wants to be introduced by her dad. That's why she's on five dating websites, posing as anything from an avid gardener to a crazed thrill seeker.
Sam Turner is a single dad, workaholic, who owns his own company. Long-term relationships have never worked out for him. That's why he needs a nanny.
When a mutual friend suggests Sarah take the job temporarily, everything changes for them both. Sarah begins falling for the man who meets almost none of her online criteria. And when strange things start happening—things that jeopardize the safety of Sarah, Sam is the last person she would imagine is hiding something.
Excerpt
Reason number forty-three why I could possibly still be single at the age of thirty-one. Sharing a wardrobe with Mable Watkins. She was four foot nine and seventy-eight years old, and for my entire middle school career, I got all her hand-me-downs. What can I say? I was raised by a single dad who had zero fashion sense, and a keen eye for a bargain. Cable-knit sweaters, solid-colored turtlenecks, and slacks—all in the color scheme of browns and grays.
Reason number ninety-five why I remain single at age thirty-one: Belonging to the knitting club that meets the first and third Thursdays of every month.
Although I was sort of tricked into joining, I really like going.
Carol, the sort of nerdy little girl who ate by herself at the diner twice a week, asked me to go to a club with her. At first, I was dumbfounded that she even spoke to me. I'd waited on her table for the past three months straight, and the most she ever said was "hold the pickle, and extra ice, please." Although there was that time that she said my hair bun was nice, and asked me where I shopped for my fingernail polish. I digress… When she finally made eye contact that Wednesday lunch hour and asked whether I'd considered going with her, I said, "Uh, sure. I've been meaning to get out more." I mean, technically, I'd just moved here a few months ago, my loser boyfriend had stolen all my belongings and I was living in someone's downstairs…what could be worse than going with Carol to a club? Yeah, not the club I imagined. Then again, I could've connected the dots. Practically every time I saw her she was wearing knitted garments. The bracelets, chokers, and hats took the hobby to a whole other level.
Rob Kasen, the guy I've been dating for the past two months, knows nothing of my fashion relapse as a teen, or that I knit. I'm guessing the fact that he's twenty-five, drives a red convertible, and has a set of gorgeous blue eyes should signify he might not understand the obsession of creating something out of a very long piece of string. Not that I'm good at it, but giving him a clear line comparing me to his grandmother isn't what I'm going for.
"Babe, I'll call you tomorrow after my civil law class." I sped to get the last open spot on the street, not far from the yarn shop, my cell phone wedged between my shoulder and ear.
"And what is it that you're doing tonight? You know I wanted to see you." I could hear the pout in Rob's voice.
"I know, but I'm sort of helping a friend tonight. I promised." I shoved my gearshift to park and grabbed for my bag on the backseat.
"Okay, but know how much I'm going to miss you."
Ah, the early-in-the-relationship talk.
How I loved hearing it. All the ooey-gooey missing me and adoring me kind of stuff. I can just imagine his baby blues now and I could swear I felt my heart palpitate—see little hearts dance around my head like cartoon caricatures.
"I'm going to miss you, too. Now let me get off so I can go do what I should. I'll text goodnight a little later." I caught myself smiling when I said it.
Julieann Dove
lives in Virginia, yet longs to live everywhere else. It doesn't come as a surprise that along with her gypsy soul, comes an active imagination. That's why she loves to write and invent worlds and people, so that she can formulate their happily ever after. Hobbies include cooking new recipes, sewing, and spending time with her cute boyfriend/husband and five fabulous children. Vacations happen in Nantucket or the Carolina beaches—anywhere there is inspiration for her next book. One day she hopes to travel to Italy, drive one of those little cars around the countryside, and speak the language fluently!
Other Books by the Author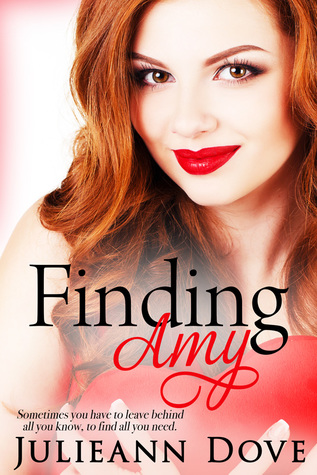 - 1 winner will receive a signed copy of Waking Amy (US only)
- 1 winner will receive an ebook of Waking Amy (open internationally)
- Ends May 9th